Sonny Angel Minifigures Wearing Delicious Sweets On Their Head!
These charming little Sonny Angels come wearing delicious sweets and snacks on their heads. Try collecting all 12 figures! We are sure these scrumptious looking Sonny Angels will brighten up your day!
Figures comes in a blind box. Let's open the box to see what you get!
Total lineup of 12 different figures + Secret figures.
One assorted box contains 12 blind boxes.
(*The secret figures are distributed randomly and may not always be included in one assorted box.)
◆Product weight : Approx. 32~34g
◆Product material : ATBC-PVC
◆Product size : Approx. H75~100/mm
◆Package size : Approx. W50×H102×D45/mm
◆Assorted Box size : Approx. W201×H107×D135/mm
(*Please note that not all types may be available even when purchased in the assort box.)
Order Limit:
Up to 11 pcs or 1 box (of 12 figures).
(*Please be aware that orders with duplicated accounts, names, addresses or phone numbers may be cancelled without prior notice.)
You can earn the following SA points via the official SA app for this item.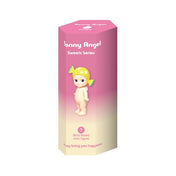 Sonny Angel Mini Figure Sweets Series (1 Piece)
SA Point 1
Sonny Angel Mini Figure Sweets Series (Box of 12)
SA Point 12
If you register as a new member of the SA App using the same email address as the login email address of this official online store, you will be able to accumulate SA Points in the App. Earn SA points for purchases at the Sonny Angel Official Store which you can redeem for wonderful prizes!
For more details, click here>>
OFFICIAL SOCIAL MEDIA