Give a Sonny Angel Flower Gift!
The new Sonny Angel Flower Gift Series features Sonny Angel dressed up as adorable lions delivering colorful flowers to you!
Each figure is dressed in a colorful lion costume, presenting flowers that match their decorated manes. The Flower Gift Series is the perfect gift to celebrate a friend, loved one, or yourself!

Share your love of Sonny Angel with someone special!
Each box comes with a special spot to the write the name of gift recipient! 
6 kinds: Sunflower Lion Blue, Daisy Lion Orange, Rose Lion, Yellow, Rose Lion Pink, Daisy Lion Lime Green, and Sunflower Lion Mint Green, PLUS secret + Robby Angel!


◆ Weight: Approx. 32-34g
◆ Material: ATBC-PVC
◆ Product Size: Approx. 38-53 x H79 x D38-51/mm
◆ Package Size: Approx. W60 x H102 x D60/mm
◆ Assorted Box Size: Approx. W190×H107×D110/mm
(*Please note: Release date and product specifications may be changed, postponed or canceled without notice.)
Order Limit
Up 5 pcs, or 1 Assorted Box (6 pcs).
(*Please be aware that any orders with duplicated accounts, names, addresses, and/or phone numbers may be cancelled without prior notice.)
You can earn the following SA points via the official SA app for this item.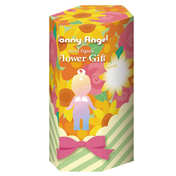 Sonny Angel Mini Figure Flower Gift Series (1 Piece)
SA Point 1
Sonny Angel Mini Figure Flower Gift Series (Box of 6)
SA Point 6
If you register as a new member of the SA App using the same email address as the login email address of this official online store, you will be able to accumulate SA Points in the App. Earn SA points for purchases at the Sonny Angel Official Store which you can redeem for wonderful prizes!
For more details, click here>>
OFFICIAL SOCIAL MEDIA