Sonny Angel Chinoiserie Series!
This limited series celebrates traditional Chinese culture with themes of Chinese paper cutting and dyeing, with traditional colors.
While retaining the retro feel unique to China, Sonny Angel wears intricate costumes with beautiful detail.
One assorted box contains 12 blind boxes. (Secret Figures are distributed randomly and may not always be included in one assorted box.)
◆Product weight : Approx. 33~35g
◆Product material : ATBC-PVC
◆Product size : Approx. W38~53×H74~77×D27~32/mm 
◆Package size : Approx. W60×H102×D53/mm
◆Assorted Box size : Approx. W185 x H105 x D160/mm
(*Please note that not all types may be available even when purchased in the assorted box.)
Order Limit:
Up to 11 pcs or 1 box (of 12 figures).
(*Please be aware that orders with duplicated accounts, names, addresses, phone numbers, etc., may be cancelled without prior notice.)
You can earn the following SA points via the official SA app for this item.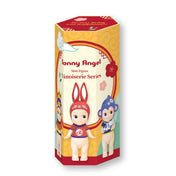 Sonny Angel Chinoiserie Series (1 pc)
SA Point 1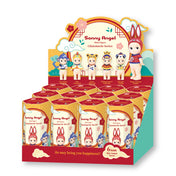 Sonny Angel Chinoiserie Series (12 pcs)
SA Point 12
If you register as a new member of the SA App using the same email address as the login email address of this official online store, you will be able to accumulate SA Points in the App. Earn SA points for purchases at the Sonny Angel Official Store which you can redeem for wonderful prizes!
For more details, click here>>
OFFICIAL SOCIAL MEDIA