coming soon
Creatures Series
coming soon
Creatures Series
Sonny Angel x Donna Wilson
Collaborative Series!
The Sonny Angel exclusive collaborative Creatures Series with the world renowned textile designer, Donna Wilson, is back in stock!
The 
Sonny Angel Creatures Series
 brings you 12 unique figures designed with British designer Donna Wilson, known for her curious creatures made of wool.
This collaborative series can be described as a place where patterns and colors collide to create adorably odd and truly one of a kind Sonny Angel figures. This series is a must have for any Sonny Angel collector or Donna Wilson lover! ♪
The charm of both Donna Wilson's Creatures and Sonny Angel are combined into one unique series. Donna Wilson's playful and unique design creates a cute, slightly surreal, and witty collector's item. 


Also available now are the Donna Wilson Creatures Figures!

You can mix and match, pair them up with your favorite Sonny Angel Creatures Figures, or display them on their own!! Click here!
12 kinds + chance of secret and Robby Angel!
One assorted box contains 12 blind boxes. (*The secret figures are distributed randomly and may not always be included in one assorted box.)
◆ Product weight: Approx. 25-34g
◆ Product material: ATBC-PVC
◆ Product size: Approx. W38~46 x H74~98 x D25~37/mm
◆ Package size: Approx. W50 x H102 x D45/mm
◆ Assorted box size: Approx . W201×H107×D135/mm


Order Limit:
Up to 6 pc.
(*Please be aware that orders with duplicated accounts, names, addresses, phone numbers, etc., may be cancelled without prior notice.)
You can earn the following SA points via the official SA app for this item.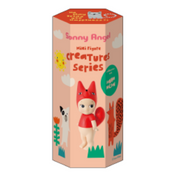 Sonny Angel Mini Figure Creatures Series - Donna Wilson Collab (1 Piece)
SA Point 1
If you register as a new member of the SA App using the same email address as the login email address of this official online store, you will be able to accumulate SA Points in the App.Earn SA points for purchases at the Sonny Angel Official Store which you can redeem for wonderful prizes!
For more details, click here>>
OFFICIAL SOCIAL MEDIA